McCoy Cardio Drumming
Thursdays 6:30 PM sharp @ McCoy Memorial Baptist Church
Currently on Summer Break. 
We will return after Labor Day.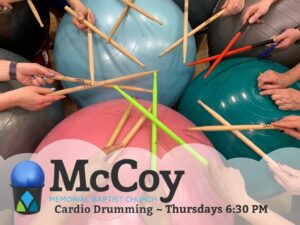 The church is located at 134 St. Clair Ave., Elkhart, IN 46516
St. Clair Ave. is off of East Jackson between Simpson and Foster.
Parking is off of St. Clair in front of the church or off of Foster in the back of the church.
Please enter through the gym door on the north, (the side closest to East Jackson), side of the church.
** Cost: FREE & the perfect physically distanced exercise and great for all fitness levels.
* Doors open at 6:15, come early and be ready to go at 6:30 sharp!
* We have a few "to borrow" drumming sets. If you are new to drumming and would like to try it out,
please post to our
Facebook page
or send us a private message to let us know you would like to borrow a set for the evening.
* Please no young children unless they can stay attentive to the workout.
Equipment Needed:
* Bucket (as shown in the photo)
* Ball (as shown in the photo), 65-75 cm ball is best.
* Drumsticks can be purchased from Esther Flora for $2 each.
* Optional: Water to drink & a towel/cloth to wipe the sweat.
* Additionally if you don't have a weighted ball, it is helpful to have something of weight to put inside your bucket to help it not move around as much.
This can be small hand weights or something as simple as your purse, or even a couple of canned goods.